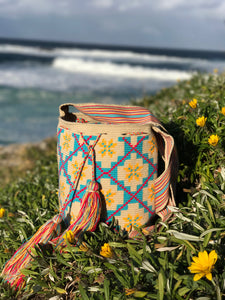 Yellow Flower
Mochila Del Paraiso
Regular price $165.00 Sale
Mochila Del Paraiso bags are unique. They are one of a kind!
All our mochilas are 100% made from fine Colombian cotton and woven in a single thread process from the base of the bag to ensure as few stich joins as possible for maximum strength and quality.
The technique is far more labour intensive than the more common two thread technique. Each of our mochilas takes approximately 4weeks to weave. The single thread process results in a mochila of the highest quality.
Our mochilas are the perfect colourful accessory for beach and street wear this Spring and Summer. They will complete your Summer look.
By purchasing one of these bags you are also helping sustain the economic growth of the Wayuu tribe in Colombia.
* Size : Approximately Height 27-28cm  Width :22- 23cm (As they are hand made, sizes can be slightly different)
* Hand wash or machine wash on soft mode